You've Hit your Goal Weight! Now What?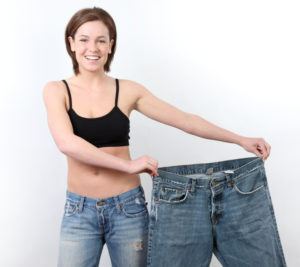 Creating the body that you feel proud of has taken hard work. It could be that you developed a healthy lifestyle that you know you can keep up for the long run. It could be that you jump-started your weight loss journey with bariatric surgery. The path that lead you to where you are doesn't matter as much as the path you continue to follow from here on out. What you want is to keep feeling as good as you do now, or possibly even better. If you're struggling with the remnants of your old self in the way of sagging skin, you could be carrying unnecessary emotional weight.
Weight Loss and the Skin
When we gain weight, we may not consider just how much the skin and underlying connective tissue may be affected. Only so much stretching can occur before the skin loses its ability to bounce back. There are other factors involved, as well. For some people, there is very little issue with loose skin after weight loss due to outstanding genes. For most, heredity, age, and personal biochemical makeup join forces to determine how loose the skin will be once the goal weight has been achieved.
Loss of Elasticity Where?
There is no way to determine how much skin will tighten, or where it will tighten, after losing a substantial amount of weight. One of the areas we commonly treat with cosmetic plastic surgery is the abdomen. The fold of skin that can develop as the body becomes dramatically thinner is called a pannus. This fold may create physical discomfort, emotional turmoil, and it may also pose a risk for infection.
The Icing on the Cake
The icing on your weight loss cake make be to have excess skin either tightened or removed. Usually, plastic surgery is the best approach for body contouring after weight loss. Some of the common procedures we perform include:
Brachioplasty / Arm Lift
Breast Lift
Belt Lipectomy / Lower Body Lift
Medial Thigh Lift
Schedule a consultation
If loose, sagging skin on the face, neck, arms, stomach, or other area is enough for you to notice, it is enough to cause you distress. Consider how the appropriate procedure could resolve your concerns and lead you into your highest confidence. Call Suria Plastic Surgery in Plantation, Florida at (954) 472-8355. Suria Plastic Surgery serves Plantation, Fort Lauderdale and surrounding areas.
Posted in: After Weight Loss Surgery
Leave a response