Kybella: Non-Invasive Double Chin Treatment
Are you bothered by the appearance of a "double chin", but not ready to try surgery?
Suria Plastic Surgery has recently introduced Kybella™, a new non-surgical treatment for "submental fullness", commonly called the double chin.
According to a 2014 survey by the American Society for Dermatologic Surgery (ASDS), over 2/3 of consumers are bothered by submental fullness.  KYBELLA™ injection, also known as ATX-101, is the first and only FDA-approved injectable drug that contours and improves the appearance of submental fullness due to submental fat.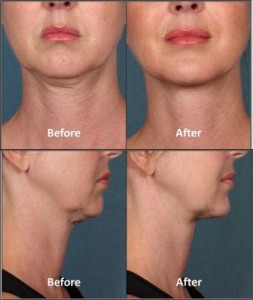 HOW DOES KYBELLA™ WORK?
KYBELLA™ is a non-human and non-animal formulation of deoxycholic acid, a naturally-occurring molecule in the body that aids in the breakdown and absorption of dietary fat.
When injected into subcutaneous fat, KYBELLA™ causes the destruction of fat cells.iv Once destroyed, those cells cannot store or accumulate fat.v After the aesthetic response is achieved, retreatment with KYBELLA™ is not expected. Due to its cytolytic activity, KYBELLA™ should not be injected into or in close proximity to vulnerable anatomic structures.
HOW IS KYBELLA™ ADMINISTERED?
KYBELLA™ is administered by injections into the fat under the chin.
Each in-office treatment session is typically 15-20 minutes.
Treatment with KYBELLA™ is customized by as part of the patient's aesthetic goals for an improved chin profile.
WHAT ARE THE RESULTS OF KYBELLA™ CLINICAL TRIALS?
In the pooled, pivotal Phase III studies, 68.2 percent of patients responded to KYBELLA™ based on a composite of validated physician and patient measurements.
Many patients experienced visible results in two to four treatments. KYBELLA™ treatment resulted in high patient satisfaction.
In clinical studies, 28%, 43% and 55% of KYBELLA™-treated patients had a ≥1-grade composite improvement after 2, 3 and 4 treatments,
respectively.
Patients also reported improvement in the emotional impact of submental fat when asked how happy, bothered, self-conscious, embarrassed, old and
overweight they felt following treatment in relation to the amount of their submental fat.
IS KYBELLA™ SAFE?
KYBELLA™ has been the focus of a global clinical development program involving over 20 clinical studies with more than 2,600 patients worldwide, of which over 1,600 have been treated with KYBELLA™.
Production of KYBELLA™ is a highly controlled, quality-assured and validated, current Good Manufacturing Practices-compliant process to ensure patient safety. KYBELLA™ contains no human or animal-derived substances.
WHAT ARE THE SIDE EFFECTS WITH KYBELLA™?
The safety profile of KYBELLA™ is well characterized. Side effects may include swelling, bruising, pain, numbness, redness or formation of small areas of firmness. Adverse events with KYBELLA™ infrequently resulted in discontinuation from study (1.6% of participants). Care must be taken when injecting KYBELLA™ to avoid the risk of marginal mandibular nerve injury and dysphagia.
Posted in: Uncategorized