Liposuction
What is Liposuction?
For some, diet and exercise is just not enough to get rid of stubborn fat pockets. Liposuction is effectively used to reduce love handles, saddlebags, a double chin, a bulge around the waistline, or other unsightly fatty deposits. Liposuction can help reshape and slim specific areas of the body by removing excess fatty deposits in order to develop a better shape and create beautiful contour of the body.
Common areas treated
This procedure is designed to reshape and improve the natural contours of the body, like:
Chin
Neckline
Back
Upper arms
Stomach
Waistline
Hips
Buttocks
Thighs
Knees
Calves
Ankles
Liposuction procedure
This procedure is done through very small incisions that will leave minimal scarring if any. If the patient is being treated for a small area they can undergo a local anesthesia. For larger areas the patient must undergo general anesthesia or twilight anesthesia. Twilight anesthesia is an IV sedation anesthesia in addition to a local anesthetic. Depending on the amount of treatment needed this procedure may take anywhere from 30 minutes to a few hours.
Liposuction Before and After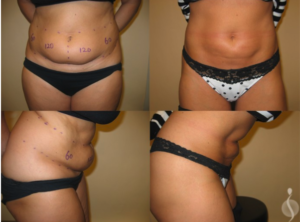 Liposuction Recovery
Your improved body contour will be apparent when the swelling and fluid retention commonly experienced following liposuction subside. After liposuction it may take 2 to 6 days before a patient can return to their regular daily activities. It may take 1 week to 10 days before a patient can return to strenuous activity; such as running or lifting weights. Patients may experience some swelling and a moderate amount of pain during the healing process, which will be controlled with oral medications. A compression garment must be worn for the first few weeks after surgery. It may take 3 to 6 months before the final result can be seen.
Is liposuction permanent
Results may vary depending on the patient's skin type and texture. It is important for patients keep an active lifestyle including a diet and exercise regimen to maintain shape and figure.
As your body ages, it is natural to lose some firmness, but most of your improvement should be relatively permanent.
Liposuction Risks
Liposuction risks and complications include, but are not limited to:
Bruising
Change in skin sensation that may persist
Fluid accumulation
Infection
Irregular contours or asymmetries
Poor wound healing
Swelling
Suria Plastic Surgery provides the best treatments throughout Miami & Fort Lauderdale in South Florida (FL). Our physicians are highly experienced to provide a safe treatment and natural results. For more details on our procedures and to schedule your complimentary consultation, call
954-472-8355
or email us at
info@suriaplasticsurgery.com