Suria Spa: Medical Skin Care Products
Obagi products are designed to improve penetration of prescription and non-prescription products across the skin barrier for common and visible skin conditions. We carry the entire Obagi line and are able to treat a number of common skin conditions.
Corrects:
Premature aging
Photo damage
Hyperpigmentation (irregular or patchy discoloration of the skin)
Acne
Sun damage
Rosacea
Fine lines and wrinkles
Systems
Nu-Derm and Condition & Enhance
Anti-Aging Transformation
Skin aging is a natural process, but daily sun exposure can contribute to premature aging, slowing down the turnover of skin cells between healthy new cells and old damaged cells.
Signs of aging and photo damage:
Age spots
Fine lines and wrinkles
Rough skin
Skin laxity (loss of elasticity)
Erythema (redness)
Shallowness (complexion)
Hyperpigmentation (discoloration)
The Obagi Nu-Derm and Condition & Enhance System is an anti-aging therapy that penetrates below the skin's surface to transform skin cell functions at the cellular level and correct the damage within… revealing healthy, younger-looking skin.
Nu-Derm Products
Product Details
The Obagi Nu-Derm products are designed in a system with a specific dosage and frequency to maximize your results.
Prepare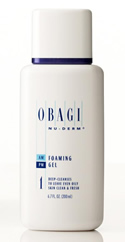 Foaming Gel- A gel-based cleanser that removes impurities, oil, and makeup to leave even the oiliest skin clean and fresh.
Gentle Cleanser– mild, gel-based cleanser that gently removes impurities, oil, and makeup to leave skin clean and fresh.
Toner- A toner that adjusts the pH of the skin for increased penetration of the system ingredients.
Improve
Clear- A topical prescription treatment that includes 4% hydroquinone to correct hyperpigmentation (discoloration) and improve and even skin tone.
Exfoderm® Forte- An alpha-hydroxy acid (6% glycolic acid, 4% lactic acid) that removes old skin cells while promoting new skin cells for a lighter, brighter, firmer complexion for skin that needs deeper exfoliation.
Exfoderm®- A plant acid (3% phytic acid) that removes old skin cells while promoting new skin cells for a lighter, brighter complexion.
Blender®- A topical prescription treatment that contains 4% hydroquinone to target hyperpigmented (discolored) areas of the skin and increase the penetration of the active ingredients of the system.
Tretinoin (Retin A)- A topical prescription treatment for acne and skin resurfacing. Use as directed by your skin care professional.
Protect
Healthy Skin Protection SPF 35– A sunscreen with 9% micronized zinc oxide and 7.5% octinoxate that helps to protect newly transformed, younger-looking skin.
Sunfader®– A topical prescription treatment that helps to protect skin from ultraviolet damage with 7.5% octinoxate and 5.5% oxybenzone, while correcting uneven surface skin color and brown spots with 4% hydroquinone. 2.0 fl oz (57 g)
Physical UV Block SPF 32- A sunscreen with 18.5% zinc oxide that helps to protect the newer, healthier skin created by skin transformation. 2.0 oz (57 g)
Sun Shield SPF 50- A sunscreen that combines high UVB absorption and dynamic UVA blockage in an elegant, matte finish with 10.5% zinc oxide and 7.5% octinoxate. Nonwhitening, PABA-free, and fragrance-free for all skin types.
Nu-Derm Before & After Gallery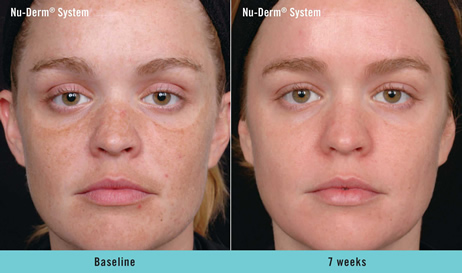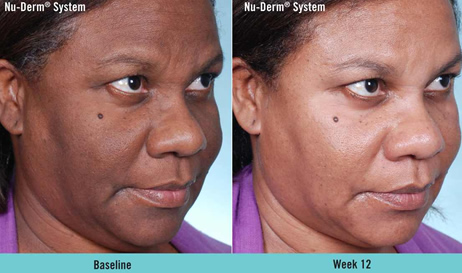 Obagi C-Rx
Over-the-Top Protection You Won't Find Over-the-Counter
With Obagi-C Rx, you're on your way to healthier, refreshed, revitalized skin from cell to surface. The Obagi-C Rx System offers the benefits of both prescription-strength 4% hydroquinone and potent Vitamin C to correct signs of skin damage and help restore and maintain younger-looking skin.
Obagi-C Rx System products are ideal if you have:
Minimal fine lines
Minimal unevenness of skin tone
Mild hyperpigmentation and minimal age spots
Intolerance to, or are not ready for, more aggressive anti-aging regimens
Dry, normal, oily, or even sensitive skin
Products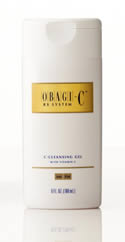 C-Cleansing Gel- Prepares and conditions skin to optimize penetration of the system. Enhances skin clarity.
C-Clarifying Serum- First and only 4% hydroquinone + Vitamin C serum with L-ascorbic acid Vitamin C. Penetrates the dermal layers to reduce melanosome activity while promoting more even skin tone and providing potent antioxidant therapy.
C-Exfoliating Day Lotion- Exfoliates the outermost layer of the skin to enhance penetration of active ingredients. Antioxidant activity neutralizes free radicals and prevents future damage.
C-SunGuard SPF 30– Prevents premature aging from UVA/UVB radiation. Protects skin radiance.
C-Therapy Night Cream- Optimizes natural renewal cycle of the skin at night. Reduces irregular melanosome activity while providing potent antioxidant therapy with Vitamins C and E.
Obagi C-Rx Before & After Gallery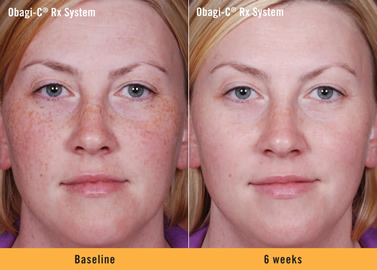 Rosaclear
A Clearer, Calmer, and More Balanced-Looking Complexion
The Obagi Rosaclear System is designed to help you achieve a clearer complexion by reducing the redness and blemishes caused by rosacea.
The Rosaclear System consists of the following Obagi products:
Gentle Cleanser- Gently cleanses sensitive skin by removing bacteria and other irritating residues. Key ingredient: Aloe Barbadensis Leaf Juice.
Metronidazole Topical Gel USP, 0.75%- Indicated for topical application in the treatment of inflammatory papules and pustules of rosacea. Key ingredient: 0.75% Metronidazole Topical Gel USP.
Hydrating Complexion Corrector- Protects the skin barrier, moisturizes the skin, and reduces visible redness. Key ingredients: Glycerin, Licorice, Aloe, Lavender, Sea Whip, and Mica.
Skin Balancing Sun Protection SPF 30- Broad-spectrum sun protection against harmful UVA/UVB rays while helping to reduce the appearance of redness and blotchiness. Key ingredients: 15.5% Zinc Oxide and 2.0% Titanium Dioxide.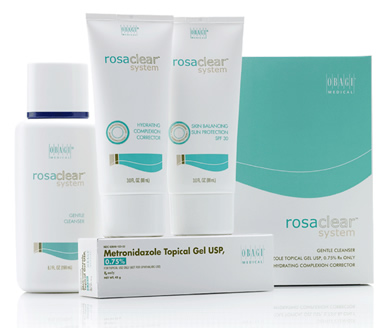 Rosaclear Before & After Gallery
Professional Vitamin C Serums
Antioxidant Protection. Maximum Vitamin C Penetration
Obagi Professional-C Serums use advanced scientific formulas developed and tested by leading Vitamin C experts to provide maximum daily antioxidant protection against free radicals, which cause premature signs of aging including fine lines and wrinkles. Our unique formula provides greater penetration of ingredients than other Vitamin C products — delivering greater antioxidant benefit to your skin!
Product Details
Obagi Professional-C Serums use stabilized L-ascorbic acid – the only form of Vitamin C that can be effectively absorbed by the skin. Speak with our licensed skin care specialist to choose from our 3 concentrations to determine which one is right for your skin.
ELASTIderm Eye Cream
See the Resilience Right Before Your Eyes
Finally! An eye treatment that really works to bring back the lift around your eyes! The Obagi ELASTIderm Eye Cream is a one-of-a-kind eye treatment that includes a revolutionary bi-mineral complex, copper zinc malonate, to help restore the elasticity around your eyes and reduce the appearance of visible fine lines and wrinkles.
The ELASTIderm Eye cream is only available through your skin care professional because they contain powerful, yet gentle ingredients:
Bi-mineral complex: Includes zinc and copper to help restore elasticity and build collagen
Malonic acid: Patent-pending Obagi formulation that helps stimulate the production of skin cells
Blueberry extract: Provides antioxidants that help eliminate free radicals
Penetrating Therapeutics™: An Obagi technology that helps drive the ingredients deep into the skin
Elastiderm Eye Before & After
Elastiderm Décolletage System
Revitalize Your Skin for Your Best Chest Forward
While you may have diligently maintained the skin on your face for years, you may not have paid as much attention to the skin on your chest and neck. However, the skin on your décolletage is particularly vulnerable to visible signs of aging, since it tends to be thinner, less moisturized, and often overlooked in the sun protection regimen Revitalize your décolletage skin with the Obagi ELASTIderm Décolletage System for flawless, younger-looking skin.

Décolletage Before & After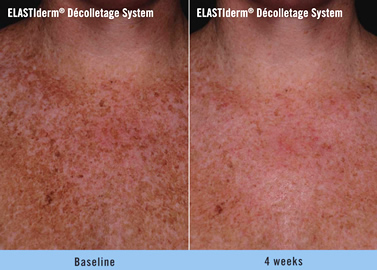 Product Details
The Obagi ELASTIderm Décolletage System consists of a patent-pending product using Penetrating Therapeutics™ that is clinically proven to help restore healthy skin. Used together, this therapeutic system diminishes the signs of aging, helping revitalize vulnerable skin. Click on the products below for details on the right.
Wrinkle Reducing Lotion- Formulated with ELASTIderm's Restorative Elasticity Complex. Contains a unique bi-mineral complex to help replenish elasticity and build collagen for increased skin strength and resilience. Includes malonic acid to help stimulate the production of healthy cells.
Skin Lightening Complex- Formulated with 4% hydroquinone to reduce hyperpigmentation (discoloration) and age spots.
Our generally well-tolerated regimen is absorbed easily and quickly and is ideal for most skin types.
BioCorneum Scar Cream
bioCorneum®+ is an advanced silicone treatment with SPF 30 for minimizing the appearance of scars while UV protection ingredients help guard the maturing scar from the aggravating effects of the sun, such as with erythema (redness) and hyperpigmentation.
100% silicone in a transparent, patented self-drying formulation
Registered with the FDA as a 510(k) medical device
Deemed "substantially" equivalent" to silicone sheets, but preferred by patients for ease of use*
Binds to the skin creating a semi-occlusive, gas permeable waterproof layer, eliminating maceration side effects
Indicated for scars resulting from cosmetic and surgical procedures, wounds, burns and trauma
Proven Clinical Efficacy
Over 1800 patients in published clinical trials, with proven efficacy in both treating and preventing excessive and abnormal scar formation.
No other topical scar treatment has been more widely studied.