Resources
About Your Visit
Upon Arrival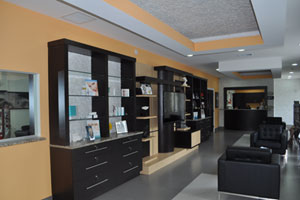 The day of your appointment you will be greeted by our team of specialized staff who will be available to answer any questions and/ or concerns you may have regarding your procedure. In order to guarantee the privacy and respect the time of our patients we schedule sufficient time for each appointment. This insures the appropriate amount of time to thoroughly discuss your desired procedure. If you need to change or cancel your appointment we ask that you please do so at least 24 hours before your scheduled visit.
Cost for a consult
There is no cost to you for a professional consult with our doctors when it comes to a Cosmetic Consult.
During Your Consultation
At this time our physician will discuss with you any concerns you may have during your personalized consultation and answer any questions. The physician will also conduct a physical examination. Together you and the physician will discuss any proposed treatment or surgical options and develop a customized treatment plan.
After Your Consultation
Once your consultation has been completed you will meet with someone from our team of specialists to discuss procedure costs and financing options available. We want to ensure that you are comfortable with our physicians and team of specialized staff before you make your final decision. We want you to have confidence in your choice after this personalized meeting.
Scheduling Your Surgery
Our cosmetic coordinators will work very closely with you to select a date that is convenient for you to schedule you desired procedure.
Your Pre-Operative Appointment
During your pre-operative appointment the physician will review your medical history and complete a physical examination. If it is necessary the physician will require surgical clearance from your primary health care provider. They will also discuss with you your expectations, as well as review your personalized surgical plan. Once you have completed the consent forms you will be provided with any necessary prescriptions. The physician will answer any additional question or concerns you may have during this appointment.
What does my quote include?
Your quote includes the physician's fee for the surgery/procedure he performs, pre-op appointment, anesthesia, facility fee and all your post operative appointments for one year.
Payment
When you decide that our office is the right fit for you and you are ready to set a date, you will be required to pay a $1000 deposit fee. One week prior to surgery day you will be required to pay the remaining balance. We do accept Care Credit as well as cash/check/credit card payments.
In order to reserve a time and date for your surgical procedure a non-refundable booking fee of $1,000 will be collected. This deposit will be applied to the balance of your surgery. The remaining balance will be due at your final pre-operative visit.If you must cancel your procedure at anytime before the pre-operative appointment the deposit will not be refunded, but can be transferred to other procedures, treatments, or products. If you have any questions regarding our financial policies and procedures please feel free to contact our office staff, they will be more than happy to assist you. Our office is able to accept payments in the form of: cash, cashiers checks, money orders, Visa, MasterCard, and Discover. Financing is available for those who qualify.
---
Out-of-Town Patients
At Suria Plastic Surgery we strive to provide our patients with the highest level of care and the utmost in surgical expertise. We attract patients from around the world due to our level of care and expertise in our field.
Remote Consultation
Our team of specialized staff offers consultations through video conferencing, email, or telephone for our out of area patients. Based on your preferred procedures our physicians will require you to send a series of photographs for their review. Our team of specialized staff will contact you to discuss your desired surgical goals.
Procedure Scheduling & Pre-Operative Visit
After your initial remote consultation one of our cosmetic coordinators will contact you to discuss surgical fees and set up a surgical date that is convenient for you. Our office can provide financing and would be happy to discuss these options with you. After your initial consultation a pre-operative visits will be required, this will be a one-on-one discussion with your physician scheduled the day before your surgery. Generally only one appointment is necessary. We will gladly accommodate those patients desiring more than one pre-operative visit.
Planning your Arrival
Based on our initial consultation there are certain tests that can be done by your primary physician prior to surgery. These may include blood work, EKG, chest x-ray, and medical clearance from your physician. This is based on an individualized basis after your consultation. We will need to receive these results at least two weeks prior to surgery. You will need to have a responsible adult accompany you during your stay. If you are unable to have someone accompany you we can arrange for a private-duty nurse during your post-operative period.
Accommodations
There are many hotel options available in Fort Lauderdale; our office is conveniently located next to a Hyatt Hotel. The Hyatt Hotel offers special rates for any of our surgical patients. It is recommended you stay in a location close to our office and surgery center. Please visit the Hyatt Hotellink provided below or feel free to choose another hotel location close by.
Hyatt Place Fort Lauderdale/Plantation
8530 West Broward Boulevard
Plantation, FL 33324, USA
Phone: 954 370 2220 Fax: 954 370 2272
Maps & Directions to Hyatt Place Fort Lauderdale/Plantation
www.plantation.place.hyatt.com
Courtyard Fort Lauderdale Plantation
7780 SW 6th Street
Plantation, FL 33324, USA
Phone: 954 475 1100 Fax: 954 424 8402
Maps & Directions to Courtyard Fort Lauderdale Plantation
www.marriott.com
Length of Stay
Depending on the procedure preformed post-operative visits will vary. In most cases the patient will be seen the next day after surgery. Generally a stay of 7 days is required for optimal post-operative results. Depending on the surgical procedure a longer stay may be required.
Over night stay
You will be able to stay over night whether it is at the hospital or our surgical center. We are the only surgical center that has over night stay in Plantation. We have a fully functional suite, with all the comforts of home. You will have our specialized staff care for you and make sure you are safe and well taken care of while you are in our suite.
Nearby Airports
Fort Lauderdale Location:
FLL Fort Lauderdale-Hollywood International Airport 11.3 miles
100 Aviation Blvd, Fort Lauderdale, FL‎ – (954) 359-1200‎
www.broward.org/airport
MIA Miami International Airport 33.3 miles
2250 Perimeter Road, Miami, FL‎ – (786) 265-0166
www.miami-airport.com